_______________________Princes & Princesses

B-Litter
DOB : 12 September 2009

Dam : SGP The Legends Issey Miyake of Wentworthz
Sire : SGC Kali Katz Mighty Sampson of The Legends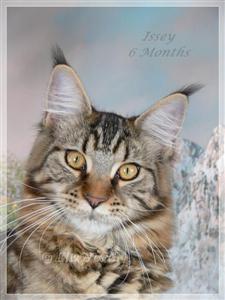 Issey : Sammy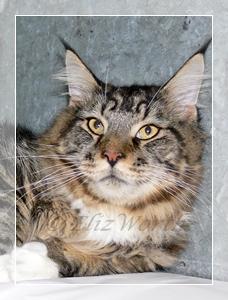 Names

Meaning

Wentworthz Bono Baritone : Brown Classic Tabby with White Boy
Bono : The lead singer of the Irish rock band, U2
Baritone : A male singer or voice with a range higher than a bass and lower than a tenor.
Owners : Tinus & Elmarie Erasmus of Potchefstroom, North West Province, SA

Wentworthz Barcarolle Miya : Brown Classic Tabby Girl
Barcarolle : A Venetian gondolier's song with a rhythm suggestive of rowing.
Miya : Beautiful Child
Owners : Arnold & Marié Botha of Stellenbosch, Western Cape, SA

Wentworthz Begin The Beguine of Coonstars : Blue Classic Tabby Girl
Future Breeding Queen
Begin The Beguine : A song of Cole Porter
Owners : Dennis & Annie Conway, Parkhurst, Johannesburg, SA (http://coonstarmainecoons.yolasite.com/)

Wentworthz Bellissime Stelle : Blue Classic Tabby with White Girl-2
Bellissime Stelle : A song of Andrea Bocelli
Owner : Adele Visser of Wellington, Western Cape, SA. Issey (now spayed) will acompany her daughter to Adele. This decision was made together with Petra (her breeder) and me in the best interest of Issey.

Wentworthz Björk Isis : Blue Classic Tabby with White Girl-1
Björk : Icelandic singer
Isis is an Egyptian winged goddess who represents all that was visible, birth, growth, development and vigour. She is also the goddess of simplicity and the goddess of children from all beginnings.
Owners : Dr Ziyaad Valley-Omar & Ms Nadia Isaacs, Rondebosch, Cape Town SouthernSuburbs, SA

Pictures of kittens - DOB to 12 weeks
Click on Issey's eyes to view

Site by ElizWorth : Ó 2008 - 2010 : All Rights Reserved
You may not copy, reproduce, or use anything on this site without express, written permission from Elizabeth Wentworth.
- Photographs on this page by -
Elizabeth Wentworth
-Photographs in SlideShows-
Arnold Botha : Elizabeth Wentworth : Petra Smith

This site is best viewed with a 1024 x 768 screen resolution.